I received yet another parcel the other day, a birthday parcel from my SP9. Being the dap that I am a deleted my inbox the other day and don't have her e-mail, so SP9 if you're there please e-mail me and thank-you for my birthday present!
I received two balls of sock yarn in lovely deep autumnal colours. The photo doesn't do them justice they are deep burgendy/brown with pinky highlights in one and multicoloured highlights in the other. I also got two Yankee Candles, one cranberry and one pumpkin and some Lindt Lindor Halloween ltd edition - not in photo as I ate them. They were very yummy!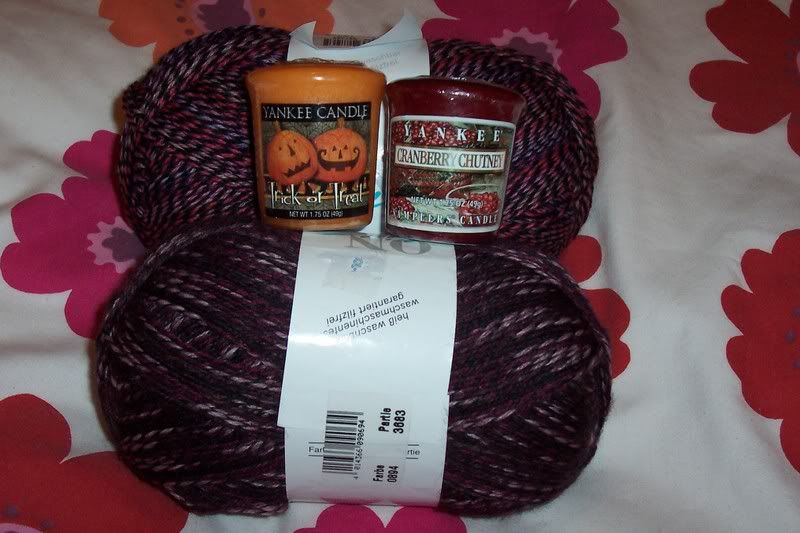 So, I posted about all the parcels i've received not really about the knitting i've been doing so I guess now is time for a WIP/FO update.
I completed my first toe-ups last night. I am really pleased with them.
Pattern:
Plain Toe-Up Socks
Yarn: Lana Grossa Cotton Fantasy 4ply Sock (shade 813)
Needles:
Bamboo 2.5mm dpns
Modifications: I made these into short ankle socks


I also completed Denmark from Nancy Bush's Knitting on the Road. I love this pattern and will definetly be making more. The pattern is pretty easy but looks fab!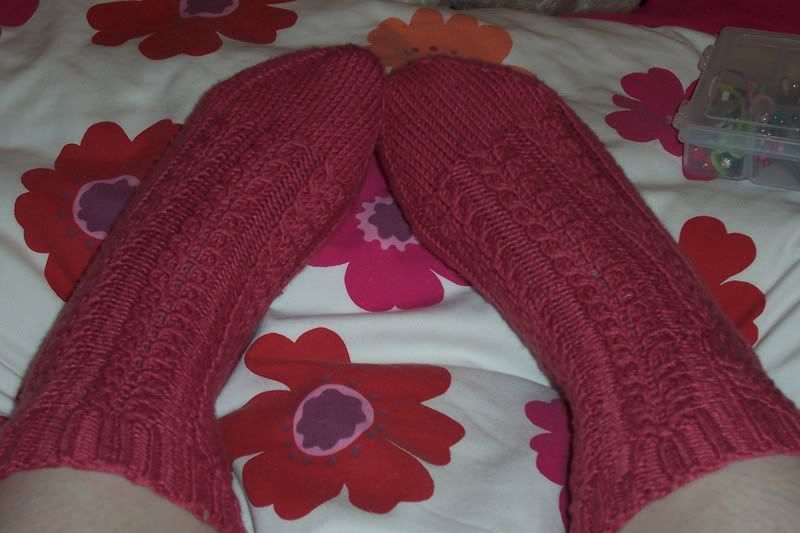 Yarn: Debbie Bliss Baby Cashmerino
Needles: Brittany Birch 3.25mm
I finished my scarf to send to my ISE 3 pal. This took longer than I expected to knit but once I was over half way it seemed to go quicker. The worst thing about this was blocking, as I had never blocked lace before.
My Mum kept asked for a matching scarf, hat and gloves set for xmas. I have completed the scarf and have cast on for the hat. I am using Twilleys Freedom Spirit and pattern book that goes with it.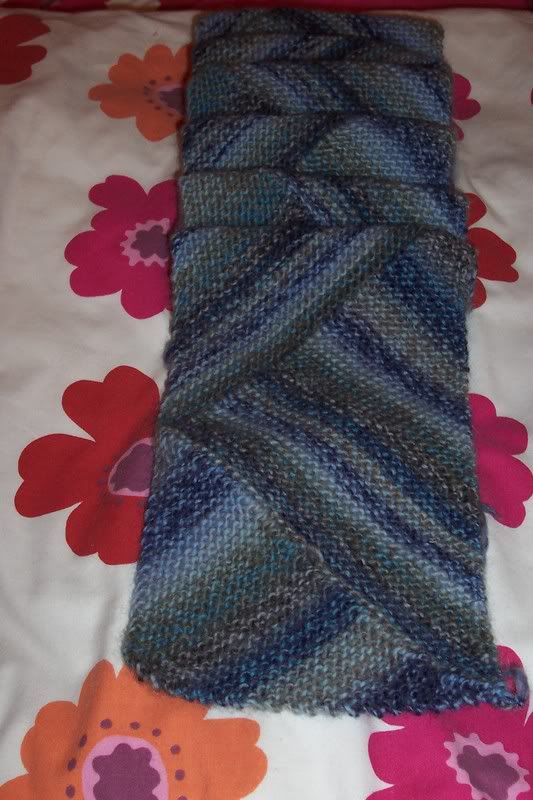 Pattern: Multi-directional Scarf from Twilleys Freedom Spirit
Yarn: Twilleys Freedom Spirit - Air
Needles: Bamboo 4mm
As can be seen I've been pretty busy, I have three projects on the needles at the moment.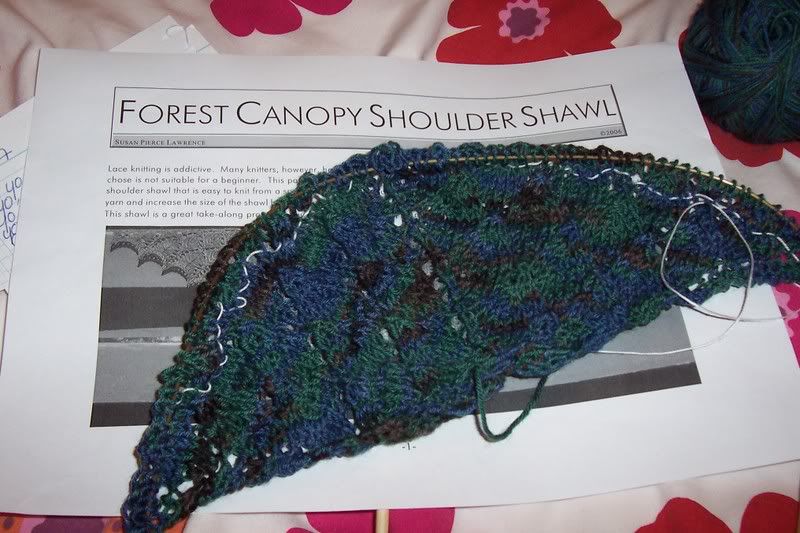 Forest Canopy Shoulder Shawl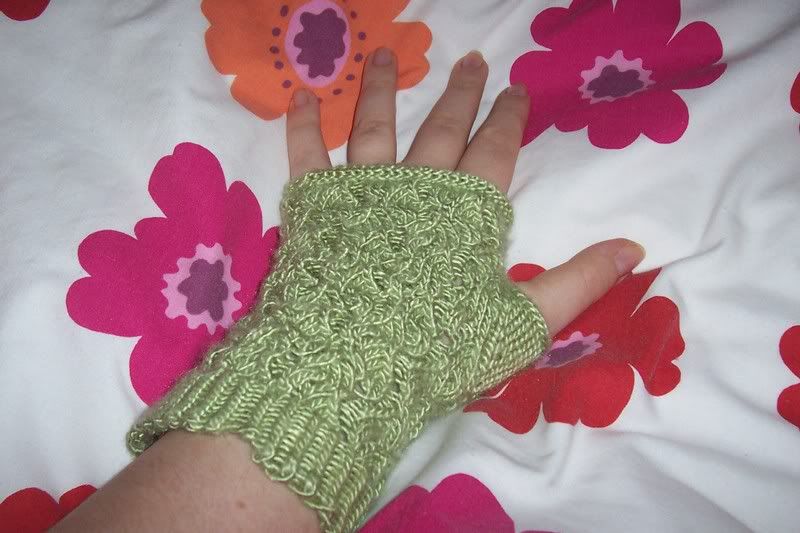 Whitewater wristwarmers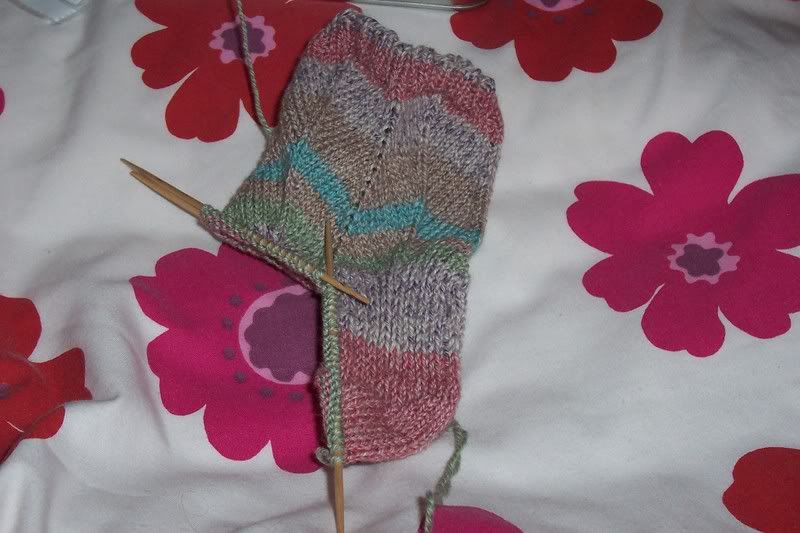 Jaywalkers
I'm hoping this post looks ok as blogger was playing up and I had upload my photos to photobucket and them link to them. I'm not sure how much knitting is going to be happening over the next few days as it will be my birthday. I am off to my friends tomorrow who is holding a birthday/halloween party for me so expect some bizare photos of us all dressed up in our fancy dress.